For just a moment, a matter of a fortnight, I really thought I had the commute cracked. The whole issue of me wanting to rip the throats out of anyone who so much as impeded my progress by a small amount, had been beaten. I was experiencing a serenity that had eluded me since I last went fishing when I was 16. I almost didn't want to punch the magistrate that did me this "favour" for a good few days.
For the next 6 months, I am a customer of public transport and at the beginning of this new reliance, I was a happy customer.
Instead of crawling out of my pit at 6:15am and fighting my way down the A449 for an hour, arriving at work with murder on my mind and hate in my soul, I was getting up at 5am, getting a bus, getting a train, changing at Birmingham New Street and walking just over a mile from the train station to work and getting there with a smile on my face. A minor sheen on my forehead and a slight shortness of breath, but no worse for it and a little bit happy.
Yes. It threw me for a complete loop too.
On the way home, instead of snarling my way through 40 miles of people with no concept of
keep left
or the
national fucking speed limit as applied to cars on a single carriageway DO SIXTY YOU MORONS, DO SIXTY! FORTY IS TOO SLOW ON THIS ROAD! WHY ARE YOU DOING THIS TO MEEEEE?!
I was leaving work a bit later but having a good sit down in the warm, catching up on some long overdue reading.
Reading such as
Westlake Soul by Rio Youers
.
A damn good read*. Especially if it could make me almost want the train to get delayed so I could read further.
Getting back to the point, my court ordered dependency was starting to look like a blessing. I had rediscovered my joy of books and my Private Eye subscription. I had adjusted to going to bed early and getting up early without too much bother. It's a bit shit to be leaving the house at 5:50am, not getting home until 7:20pm and climbing the wooden hill to Bedfordshire at 9:30, but life could certainly be worse.
Despite the massive black money cloud over my head, again, I was actually quite happy.
It had been three days and I was still buying a ticket for that day on both the bus and the train, costing me 20 quid a day. This would be fine for the short term but 100 quid a week? £400 a month? £2400 for six months?! Christ no. That was far too much more than my diesel bill would have been. 6 months of diesel at 50 miles per gallon and £1.42 a litre works out to roughly £1400.
I went online to sort out a train season ticket for Wolves to Malvern and it was £1600. A bus pass would be an additional £42 a month. All this expense piled on top of a commute that had grown from two and a half hours a day to five... Five hours a day! Just going to work and paying so much more for it too!
I'm taking public transport! I'm environmentally friendly for Christ's sake! Why is this so expensive?
I can kind of see why the Greenies are so incensed...
I went to the ticket office to buy my season ticket and the man behind the glass renewed my faith in the rail network. I never had any faith in the rail network to begin with but this man made me feel born again. I very nearly cried out
Oh Jesus Jones, you international bright young thing
, when I passed him my passport sized photograph and he said:
"OK, Wolves to Malvern for the next six months *click* *tap* *click* hmmm, OK *click* *tappety tap* *click* will be £748.70 sir."
I was saving money. I didn't know how and like a pleb I asked him why it wasn't the price that I had seen online.
Yes, I can really be that stupid. When faced with a saving of 850 quid, I chose to enquire why, as opposed to taking his hand off at the shoulder.
The world started to make sense again. I wasn't going to suffer from boredom either. Because, this being 2012, I could catch up on other stuff on the go. I bought a laptop purely so that I could use it on the train to watch telly I'd nicked off the internet. I even bought a Thermos!
Such a happy morning.
I also bought a bike. The cheapest one that Halfords did. I got a set of lights, some lube to put it together with and a lock. This bike gets me from the train station to work and from work to the train station. It shaves half an hour off my daily commute which means that I can finish slightly early on a Friday.
Sounds like I'm living the dream, doesn't it? Well, I've been living in Wolverhampton for 6 and a half years now and like the residents of my adopted home city, I'm never really happy unless I'm moaning. This blog would never get any entries if it weren't for that inherited trait and good old London Midland Trains are more than happy to oblige.
If you haven't read anything about LMT's substandard performance over the last few months, then I wouldn't be surprised. In case you missed it, LMT have been cancelling services, delaying trains and pissing off commuters with impunity for the last couple of months blaming
"a temporary shortfall of qualified train drivers."
Luckily, our elected representatives are there to rebuke the errant franchise. The
Prime Minister himself has told LMT
to buck up their ideas and another minister warned that if LMT didn't sort themselves out, MP's would be looking into getting them replaced at the earliest opportunity... Sometime around November 2013.
Well done lads. That's assuring us plebs that your 63k a year is more than justified.
Obviously the monopoly with its hands in our pockets and guns to our heads, safely ensconced in Westminster, don't really give a tu'penny fuck about us. For example,
the MP for Wolverhampton South West, Paul Uppal
, should be up in arms about this. Aren't the in-actions and inadequacies of London Midland affecting a large number of his constituents in a negative fashion? Well, yes. That is exactly the case but it has very little to do with
rate relief for empty properties
, which will considerably add to the honourable member's bank balance as a millionaire landlord, so the member for this part of the Midlands won't be interested.
I hate to say it, but I actually miss Rob Marris. Whilst his pet policies were whackado and expensive, at least he was trying to do something for Wolves and not feather his own nest.
The fact that it is now 2012 and an awful large amount of the commuting public have access to the interwebs on the go, hasn't escaped London Midland. Quite a few firms have a Twitter account and actively engage with their customers and, sometimes, I really wish they wouldn't.
Because this is 2012 and speaking ones mind is both encouraged and frowned upon, the Twitter account is manned by the PR department. It's chirpy. It's cheerful. It's that happy go lucky chap you work with who thinks he's hilarious but is not. It's the woman in Office Space
And I couldn't agree with this dude more.
Because this is 2012, the world and his bluetooth enabled dog has access to this wittering and so, Ed Milliband, if you are reading this, substitute "One Nation" for every time I've said "This is 2012" and you'll begin to see why the country hates you. There are many other facets people find annoying but that One Nation crap is wearing rather thin. Try policies and politics rather than gimmicks, you posh prat in a red tie.
As has been mentioned before, London Midland Trains have been performing so very, very badly so their twitter account is a busy one. It's mainly busy saying sorry.
With the
bright and shiny new timetable
, the panacea we had all been hoping for,
nothing changed
. All that had changed for me was that the decent 1640 Hereford to Brum train that was only a little late every day, was replaced with an ancient piece of crap that was late every day.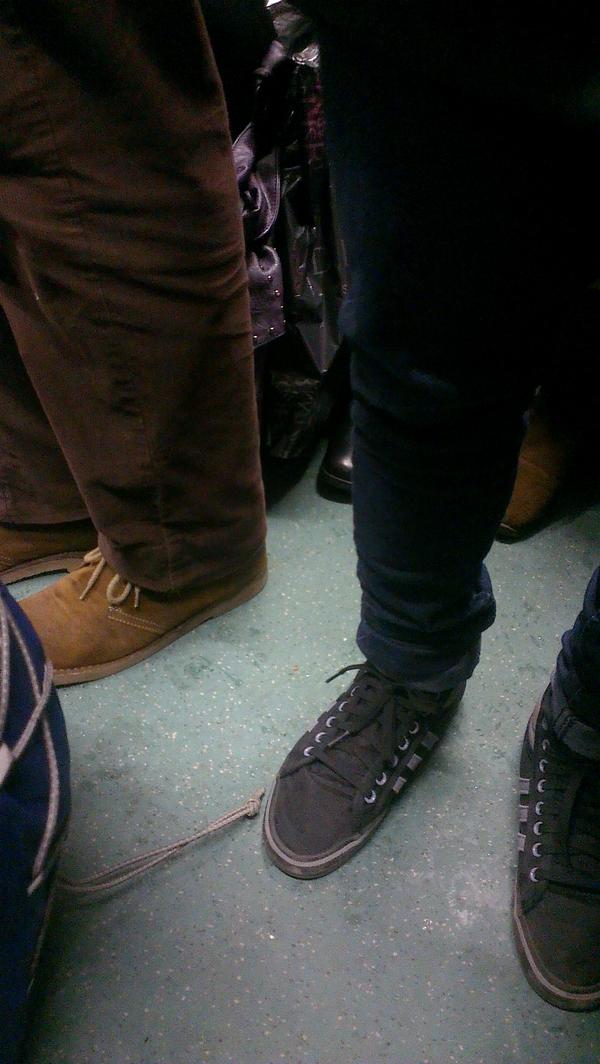 It may seem unfair to have a go at the poor people that are manning the Twitter feed and it
almost
is a bit unsporting. I would hate to have to face the public and apologise for things that are way out of my control but let's face it, at least with the Twitter feed to have a go at, it's a good public way to vent one's spleen and at least they answer your tweets.
I don't want that though. I want the boss man. I want to tell the managing director that for all of their [insert meaningless pile of buzzwords that would get you punched in the face if you were to use them in the pub to explain why the Guinness was being delayed by up to half an hour] and rhetoric, we're being held up, kept in the dark and being made to be late for work or home.
Jesus Wept.
Last night we had our nice train back. Tables and everything! It was all very cosy and nice and I didn't care that this was purely because the school train had been cancelled earlier in the day. Until we broke down outside of Bromsgrove. One of the engines had failed and couldn't get up the hill. We were stuck on the tracks for quarter of an hour when this woman knocked on the drivers door to complain, asking to be let off the train because she was claustrophobic... Up until that moment, we were all very "Dunkirk." We could barely contain our disgust. How dare she let the side down like that? And why on earth would you get on a train if you were claustrophobic?
Either way, the train had to go back down the hill and dispense us into the cold at Bromsgrove. Some MP for Watford, Richard Harrington, assured us that [he had]
"Just finished meeting with London Midland and cross party group of MPs. LM have told us systems in place to deal with previous problems..."
That kept us warm whilst waiting at an unscheduled stop in the cold, Minister. Thank you sooooooooo much.
Also last night, BBC Midlands Today was promising a good old fashioned piece of investigative journalism to lay bare the disruption and hardships that London Midland were foisting on the traveling public. What we got was a soft soap approach, following two commuters who had fairly normal weeks and, apparently, 25 people got in contact on Twitter. A whole twenty five!
Jesus wept. If they had done an actual search for London Midland they would have seen LMT's twitter account dish out 25 apologies an hour, which was much quicker than
the little train that couldn't
from last night. BBC Midlands Tonight let me down, I was expecting something much more like this, from those loveable chaps at Private Eye:
Signal Failures Private Eye #1328
Weeks of mass cancellations at London Midland Trains (LMT) will hit revenue but shareholders needn't worry: there's a bailout at the end of the tunnel!
Last year LMT's revenue was 99% of the revenue forecast when Govia, a consortium led by Go Ahead, landed the franchise. Go-Ahead boasted in September that LMT was "the only franchise of its time not to be in receipt of revenue support, which is a testament to the excellent management of the franchise".
"Revenue support" kicks in if a franchise nets less than 98% of the cash it forecast in its franchise bid; and taxpayers cover 50 or 80 percent of the shortfall, depending how far off target the revenue is. Franchises with less excellent management than LMT's shared £451m of revenue support last year.
It is tempting to blame the financial crisis for the revenue shortfall; but sudden rises in motorists' fuel costs were also unexpected, and passenger miles travelled by train have risen at the same rate since the crisis began as before it. What the £451m bailout actually proves is that revenue forecasts – fundamental to rail franchising – are just optimistic guesses to impress a gullible Department for Transport.

Revenue support can affect passengers as well as taxpayers. Govia's Southeastern franchise axed Boxing Day trains because the extra money they would have brought in would have reduced Southeastern's bailout, saving public cash but not helping shareholders (see Eye 1303).

In 2009 LMT cancelled many services "due to staff shortages" (Eye1245). This autumn LMT has cancelled or truncated hundreds more, blaming a "temporary shortfall of qualified train drivers". The widespread disruption will reduce LMT's revenue this year (and longer, if some passengers give up on LMT). To avoid that, LMT needed to recruit more drivers, earlier on, which would have inflated LMT's costs. But why bother when revenue support waits in the wings?
Why bother indeed?
I'll leave you with David Mitchel to state more of the bleeding obvious, but in a much more funny manner.
*
I met Rio a couple of times in 2001 after I had read a couple of his stories. I showed him an effort of mine and he was good enough to read it and offer some advice. He didn't say stop writing, but you can't blame him for that; he's a nice chap and probably thinks that everyone should get a chance. This bloke can craft a tale and my signed copies of Ellie's Boy in paperback and Sundown as a bunch of loose A4 sheets printed off the internet, are prized by me because I met him briefly way back when.